Home~ About~ Costumes
Eowyn's White Wool Gown
My senior year of high school, I'd already done one Lord of the Rings costume for the student body's winter formal event. I figured I'd stay with the theme and do another for the spring banquet. This one is based on Ngila Dickinson's design for Eowyn's White Wool dress from The Two Towers. Now, in 2008, having studied theatrical design, I'm an even bigger fan of this dress's concept because it's straight out of Tolkien. Back in 2004, I just thought it was pretty and had cool sleeves.
My version is made of polyester crepe, since a high school student's budget does not run toward wool crepe. Also, I had not yet outgrown my wool allergy at that point. My mother, who did the bulk of the construction here, is still allergic to wool even though I'm not anymore, so it was really for the best to use a synthetic. The sleeves are lined in polyester charmeuse, the body is self-lined, and the skirt is lined with actual lining material. It was originally going to be two layers of crepe, but the whole thing weighed in at easily five pounds before installing the lining. Another layer of heavy crepe would have killed me, so we went with something lighter.

My erstwhile friend and I, looking much closer than we actually were. Please notice the distinct lack of glitz in this dress. It did, however, fit perfectly.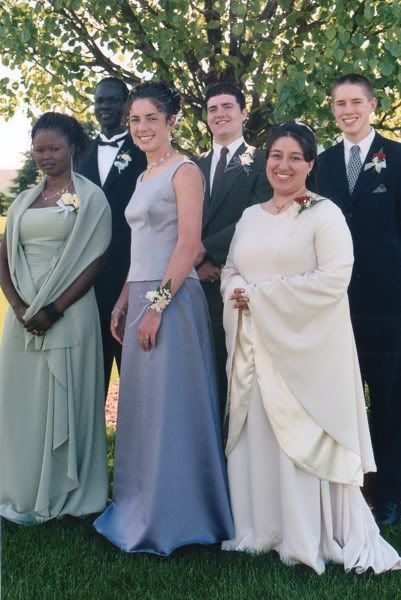 The group! This is a great picture in real life. It's also the picture my mom should use to advertise if she ever becomes a professional florist. Everybody looks nice, and you can see everyone's flowers. Mom made all our corsages and boutonnieres, and they looked incredible. Go mom!
You can also see the slight train my dress has in this picture. It's all artistically arranged and everything...completely by accident.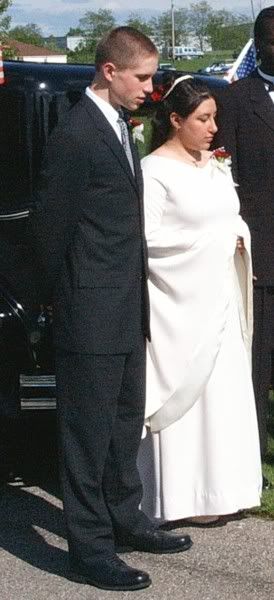 Um...sleeves! Also, the hem touches the ground when I'm not wearing three-inch heels.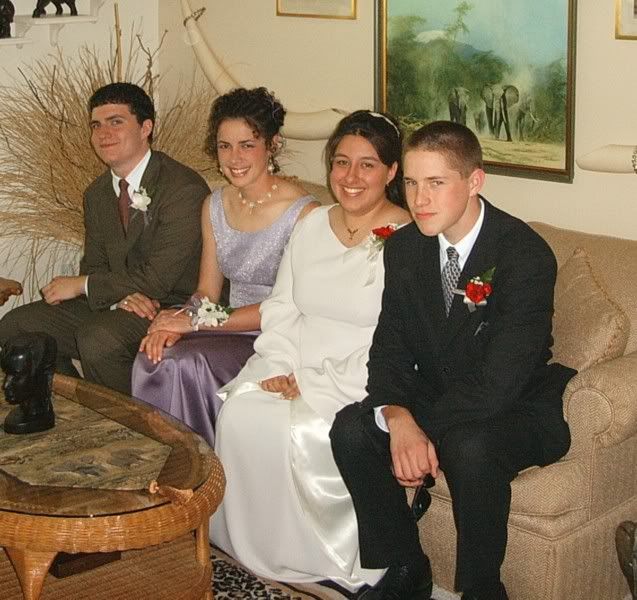 At this point, someone said, "Okay, squish in so we can get you all in the picture." Elizabeth and Andy moved in really close and friendly. "All right," I said. "Later, we're going to have a contest. How many people can we fit on my sleeves?"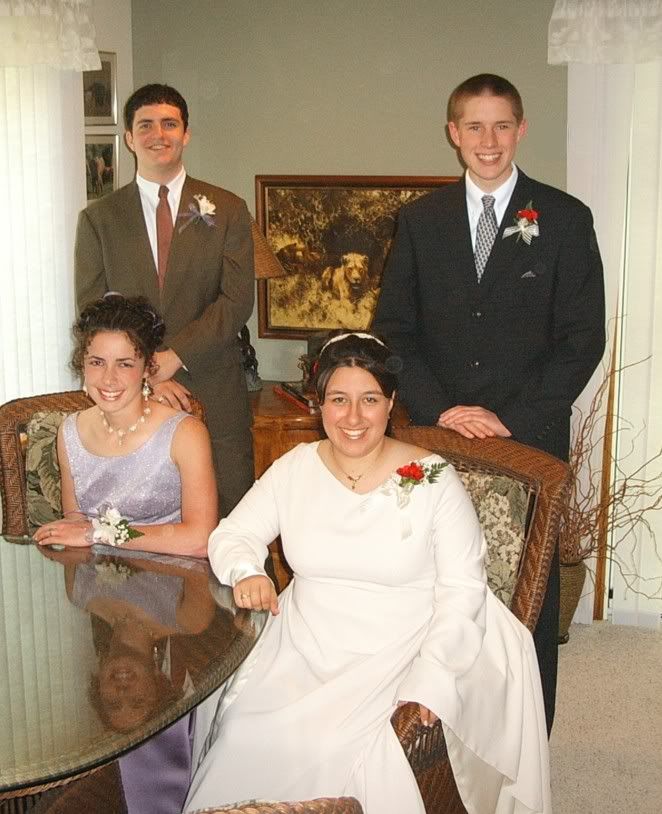 This one's up because I like it.
As I mentioned before, having now studied theatrical design, I love the concept of this dress more than ever. It's directly out of the author's description of Eowyn,
""Slender and tall she was in her white robe girt with silver;
but strong she seemed and stern as steel, a daughter of kings." The Two Towers, J.R.R. Tolkien.