Home~ About~ Costumes
Lavender Victorian Corset
Also known as "I've made four Victorian corsets and this is the only one I like"
You know, I'm realizing that most of the things I sew have stories attached to them. The short version of the story here goes something like this:
In 2006, Holly's high school did Anne of Green Gables as its spring drama. There was a huge snafu with casting and many tears were shed, though not by me. I just got mad and decided on my revenge: this show would be the period-est darn thing ever seen at that school.
Hence, a corset. In my sister's favorite color. Got the fabric and trim at Hobby Lobby, on clearance, as per usual. The thing went together with very little fuss, which was a pleasant surprise after my first two attempts at Victorian corsetry. We shall never speak of those again.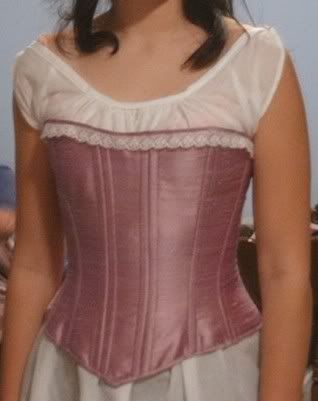 The fashion fabric is a lavender/pink shot silk dupioni, courtesty Hobby Lobby's home decorator section. The pattern is--gasp!--Simplicity's Civil War pattern, altered to fit Holly's measurements. Structurally, it's two layers of cotton duck cloth, boned with plastic cable ties. It's self-bound and trimmed with cotton Cluny lace, also from Hobby Lobby.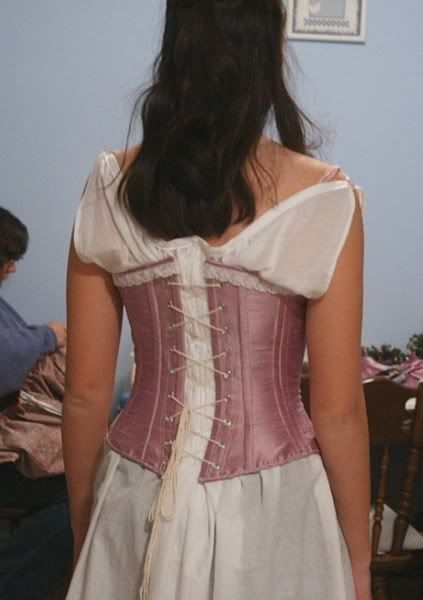 And the back. The chemise was made to go with this corset. I used up the rest of the cotton lawn leftover from my
Regency dress
, because it's very soft and doesn't add much bulk under the corset. Instead of cutting out shaped pieces for the neckline, I just used double-wide bias tape. The shoulders are supposed to button. The reasoning behind that escaped me--and still does--which is why I just stitched them together to save time. There's a little lavender button on each shoulder point, just for decoration.
All in all, this is probably my most successful attempt at corsetry. It went together easily, it held up well over repeated use on and off stage.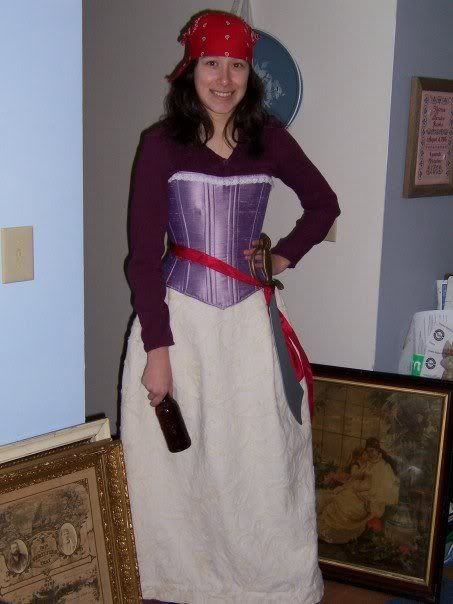 Sometimes, we just like to goof off at my house. It's not period to
anything
but the improvized pirate outfit made its debut for Spirit Week 2007. I just don't ask questions. Points if you recognize where that skirt is from.