Home~ About~ Costumes
A Dress from 1911
Taken from the Kyoto Costume Institute's Fashion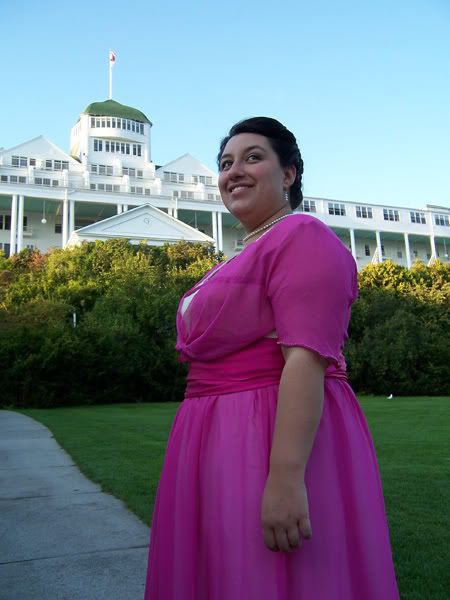 So, sometime in 2007, Julie (with whom I lived and worked for my first summer at the state parks, and who blames me for the fact that she makes costumes in the first place) and I were looking at my copy of Fashion. There's a photo in there of two dresses, a green and a pink one. She said, "I like the green one." I said, "I like the pink one!" And, well, you fill in the blanks.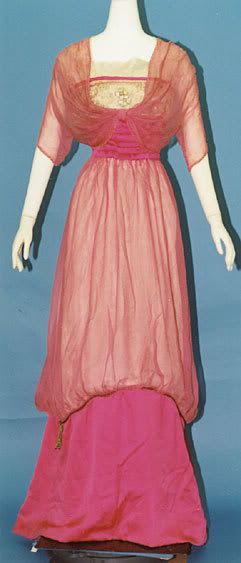 This one is the source image, not mine! The colors are inaccurate (too light) and the photo in the book is more attractive, but I have yet to see that one on the internet.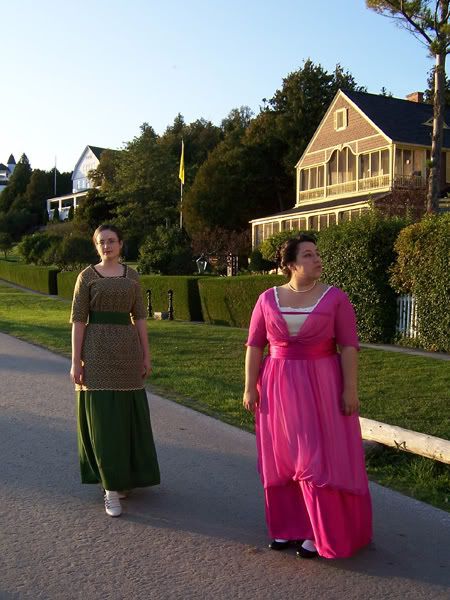 And here's a full-length view of mine.
My version is made of fuchsia silk chiffon and charmeuse from Fashion Fabrics Club. It's a separate bodice and a skirt with a hollywood waist. The silk of the skirt is mounted on a support layer of Southern Belle cotton. JoAnn doesn't sell that anymore, so I had to order it from a place called Shoreline Handwerks (sic) on Ebay. The inside seams are serged and sewn by machine, with the silk mounted on by hand.
The bodice is one layer of cotton twill, cut in a pattern that Gwendolyn very kindly draped on me. The twill is overlaid with a cream silk dupioni and a layer of cream allover lace. These were all serged together at the edges and treated like one layer of fabric for the rest of the bodice construction. The top edge of the bodice was bound in the same fuchsia satin as the bottom of the skirt. Then, well--there was this extremely hideous lace at Field's: it was a straight cheap polyester strip with a lace overlay, all sewn onto another cheap polyester ribbon. I ripped it apart and took the actual lace part, which was quite attractive, for this dress. The lace was zigzagged to the shoulder straps, and then to a doubled layer of the overall lace from the bodice in order to form the center front of the neckline above the silk binding.
Not gonna lie, I was kind of excited about the fact that I could machine sew the crap out of this beast and not feel the slightest bit guilty about it.
Anyway, the bodice closes with a zipper under the arm (installed once upside-down, discovered that didn't work, ripped out, sewn in by hand). The skirt closes with a zipper (sewn in by my mother because I just couldn't deal) and then the sash, which is attached, is closes over it with skirt hooks & bars.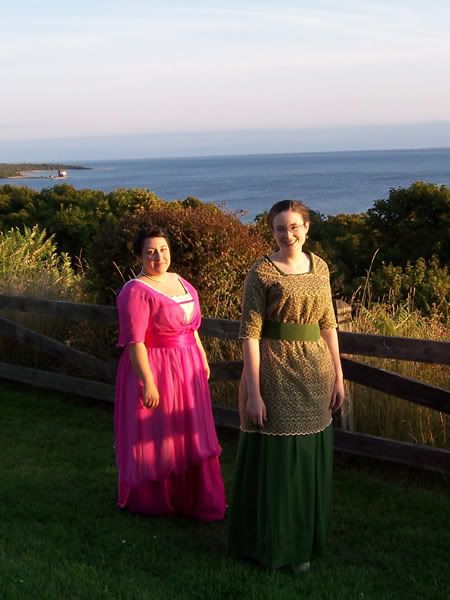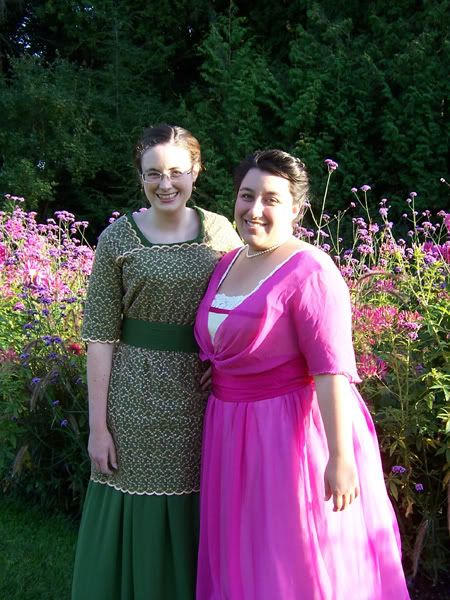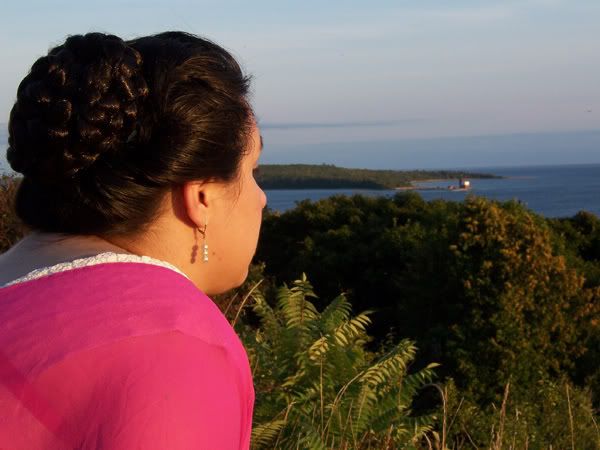 The hairpiece is the same one as I wore with my Venetian.