1770s Caraco Jacket

This is probably my favorite of all my colonial clothes. It was made the summer of 2006 for my job at MSHP. The pattern was drafted from Janet Arnold's Patterns of Fashion I, 1660-1860 using for a base the same bodice pattern that I draped for my polonaise. The caraco jacket is made from a cotton print from JoAnn Fabrics, lined with muslin, and closed with skirt hooks & bars. That print--I love it--was a lucky clearance find and I haven't been able to track down any more of it, unfortunately.
This, like all my other 18th century clothing, is designed to be worn over period undergarments. This includes a chemise, stays, stockings, and usually at least one under-petticoat. Period shoes are also a necessity; the ones I'm wearing were provided by the parks and are the Anna style by Fugawee. I actually do own a pair--mine were purchased from Jas. Townsend & Son. The ones that the park bought for me, though, have brass heel plates, which makes them more appropriate for the amount of walking on gravel pathways that we do at the fort.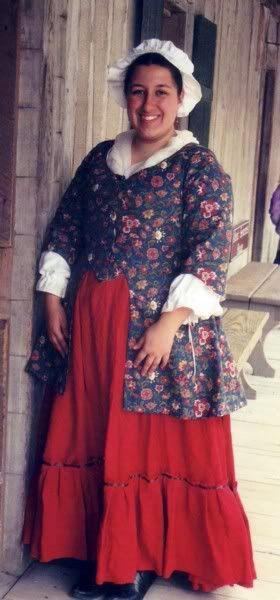 Here it is from the front. It was crazy windy the day these pictures were taken, as it often is in the Straits area. For that reason, though, my fichu (the little gauzy scarf around my neck) didn't want to behave.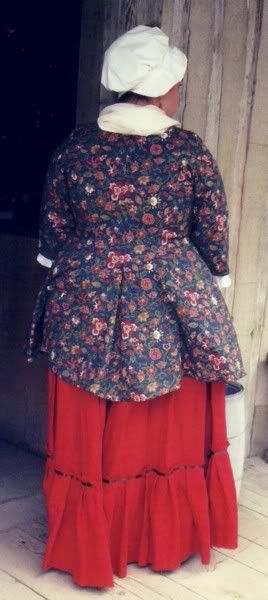 Just a back view. The red petticoat is the one that also goes with my polonaise. I didn't make the cap; it was pulled from stock at Michilimackinac at the beginning of the season.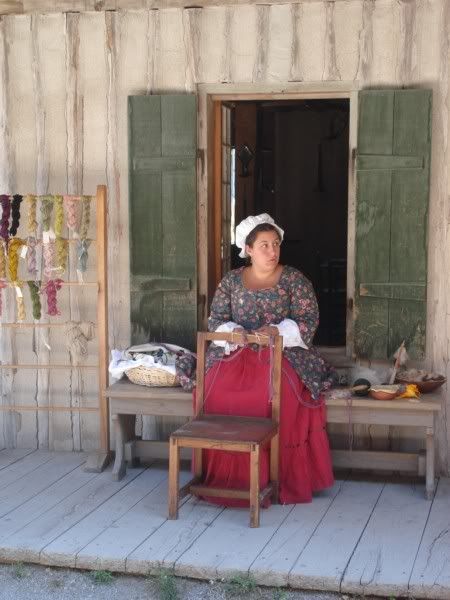 Here's pretty much as much of an action shot as you're going to get. I'm fingerweaving--fascinating, I know--and waiting for a tour group to stop at my house. That's why I have that "bzuh?" look on my face. Internally, I was wondering, "Dude, is Ben done talking about the church yet? What are those crazy tourists doing, anyway?"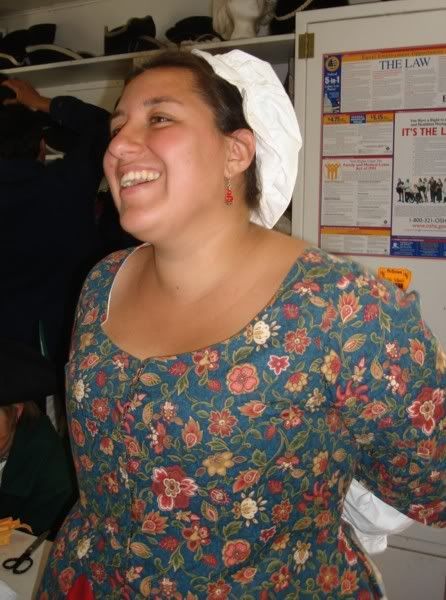 Here I am, laughing at nothing in particular in the Super Secret "Backstage" of MSHP...also known as the Guide Shack. It's glamorous. Really.