Home~ About~ Costumes
A Pair of Matching Banyans
Loose dresses contribute to the easy and vigorous exercise of the faculties of the mind. This remark is so obvious, and so generally known, that we find studious men are always painted in gowns, when they are seated in their libraries. . . ~Benjamin Rush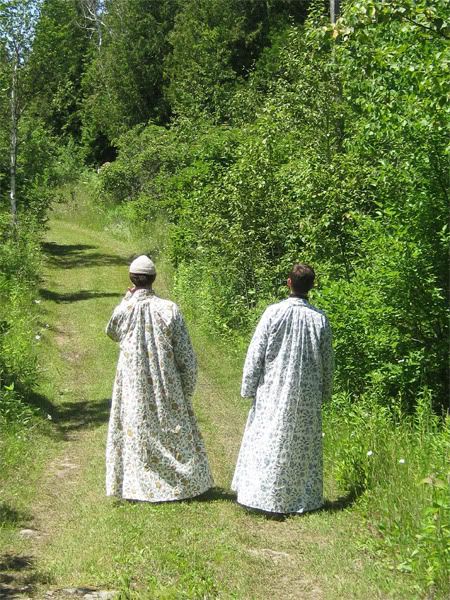 Tyler, Mike
St. Ignace, Michigan; July 12, 2009
What can I really say about this project? Tyler and Mike, Mike and Tyler. They're a pair of bookends. When they're seventy years old, they'll be sitting around in history clothes, smoking pipes and talking about shakos and roundabouts. Now they can do it in style with their very own pair of coordinated banyans.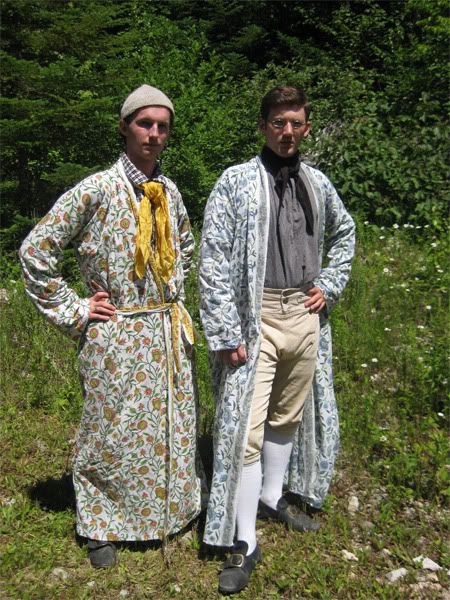 Now, what exactly is a banyan? Also known as a robe de chambre or morning gown, a banyan offered a comfortable, casual alternative to the typical gentleman's suit of clothing. In hot or humid climates, they could be used for informal wear about town, and it was also popular for intellectual men to have their portraits painted this way.

Taking a turn about the property, as it were.
The original concept for Mike-and-Tyler banyans started with the fabric, as do so many of my projects. Both robes are of lighweight cotton, block printed by hand in India--really! Honestly; how was I supposed to pass up something so ridiculously perfect? Real "indienne" cotton in and of itself was a fantastic find. The fact that they had the same print in two different colorways was a bonus, and that this particular motif came with a border printed along one selvage edge was icing on the cake.
The pattern is taken almost directly from Sharon Burnston's Fitting and Proper and dates from 1760-1800. I made slight modifications to accomodate for the width and amount of fabric I had available to me, as well as fitting them to the guys' measurements.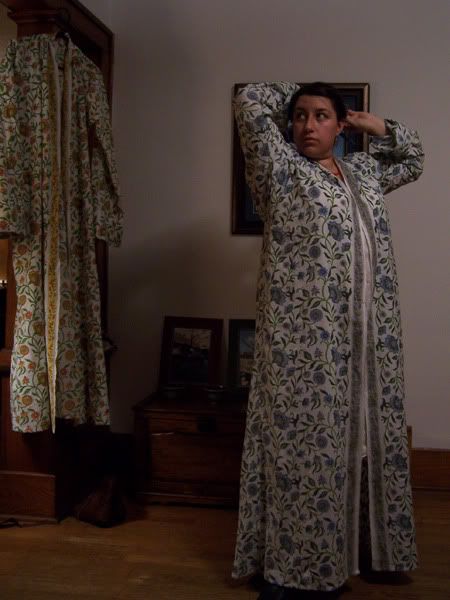 I of course had to have a test run before actually giving the guys their banyans!
In order to get a border down each side of the center front I had to railroad the pieces rather than mirroring them, and the border ends at the hem. The neck is pleated to three sides of a short band and falls from the shoulder. There's no shaping in the body except for a slight goring, and the armscye is fit with a curved seam rather than a gusset.
Had I had the time, and had I not been coping with a recent injury to my right wrist, I would have loved to have constructed these entirely by hand. It would have been lots of mindless long seams, but the bragging rights would have been nice. The physical toll on my hand and wrist prevented this, as did the time constraints (two days to complete one and a half banyans. Uh. No.) As it was, I constructed Tyler's by machine and felled the seams by hand. Mike's is entirely seamed by machine, because he told me that was all right. The neckbands were installed by hand, though, and each boy has his intials lovingly embroidered on the inside of the collar.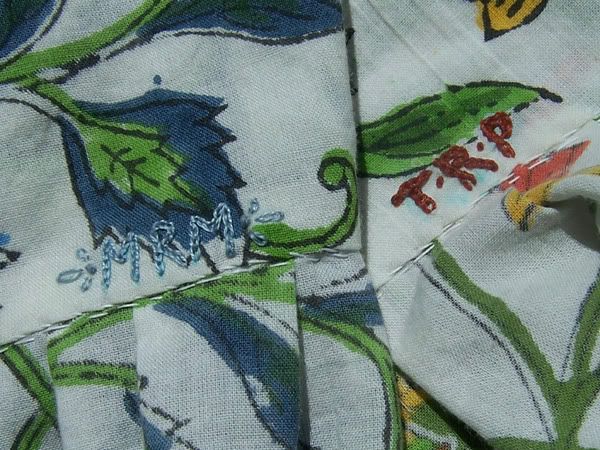 Monogramming...sort of.

Tyler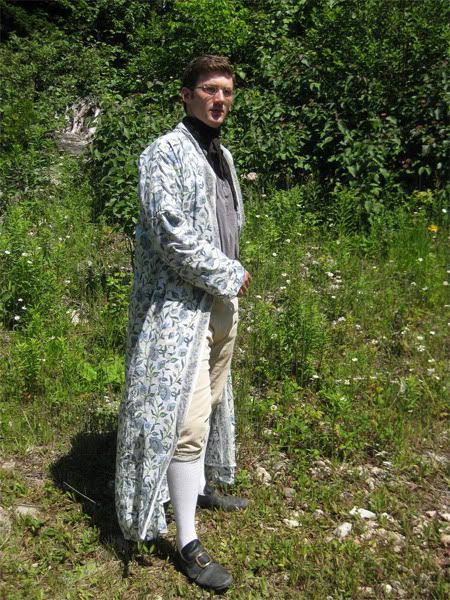 Mike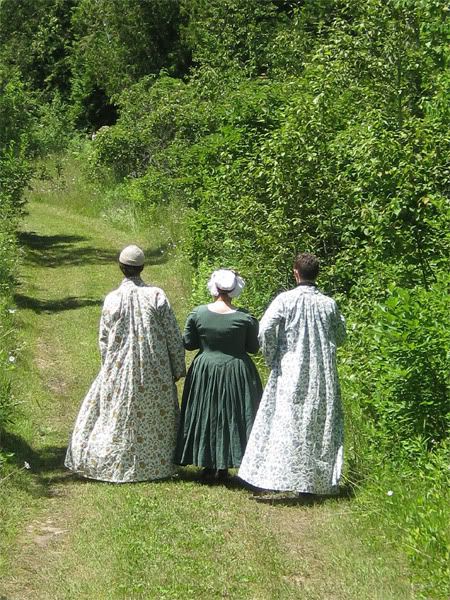 The end!