Home~ About~ Costumes
The Blue & White Ballgown
Or, "I call do-overs!"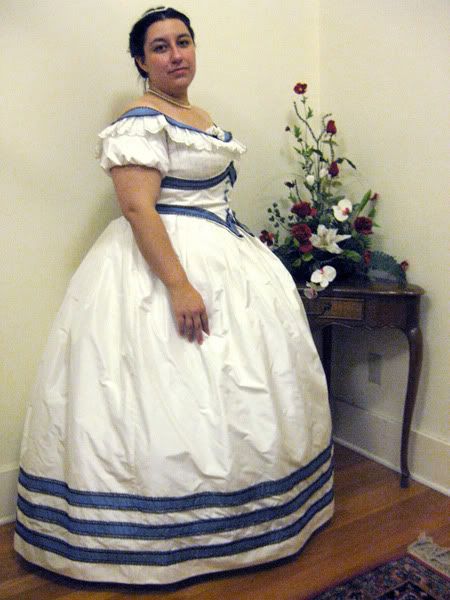 October 24, 2009
Lansing, MI
I'm just going to start by saying that I love this dress. Back in March I was just sure I was never going to be able to top the printed silk dress I made to wear to Fancy as it Flies, but I think this dress might just have done the job. This is actually the second incarnation of the blue-and-white 1860s ballgown project. The first time around, I had some trouble finding inspiration images that I liked, so I erred on the side of simplicity. And while that dress turned out okay, and definitely gave me much-needed practice in 1860s shapes & techniques, it wasn't really anything special.
In the intervening months since that first ballgown attempt, I happened across this fashion plate (click for full-sized image):


Image courtesy of Heileen
I do believe the plate is slightly later than the technical "Civil War" period, but I really liked the semi-tailored look of the trimming, as opposed to the many examples I saw with ruffles and lace. Easily adapted to a slightly earlier silhouette! I always intended on re-making the existing ballgown, so I was excited to find an example of a dress that put two plain colors to good use, too. Then, in August, my friends basically told me on no uncertain terms that we would be attending the 7th Michigan's annual Harvest Ball in October, so I'd better get moving on whatever modifications I wanted to make on my ballgown.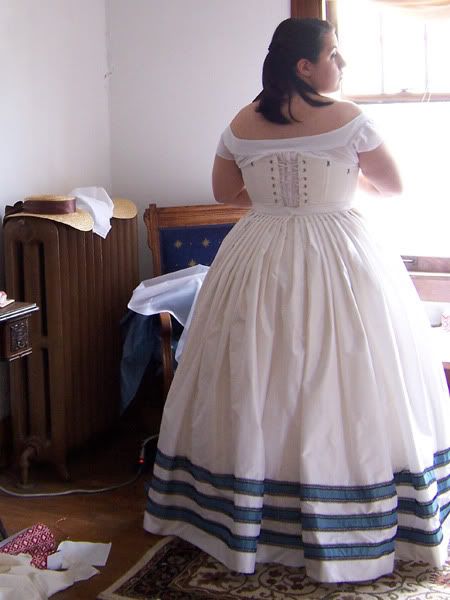 The skirt, re-made.
I began by dismantling my old ballgown skirt and re-pleating the waist. The original was gauged in the center back, a technique that I loved the look of on my day dress, but somehow didn't like as much on the stiffer taffeta of this skirt. So I released all the little cartridge pleats, re-trimmed the skirt, knife pleated it, and attached it to a new and improved waistband.
The fashion plate shows five rows of trimming; I obviously modified this to three, which was more in proportion to my height. The bands are just straight-grain strips of the blue silk that I ironed through a 1" bias tape maker and topstitched to the skirt. That was...tedious. Not as tedious as edging each stripe with two bands of black lace, though. I did use a machine, and I found that the walking foot that was included when I purchased said appliance came in quite handy for the fiddly work of making sure each narrow piece of lace stayed exactly where I wanted it.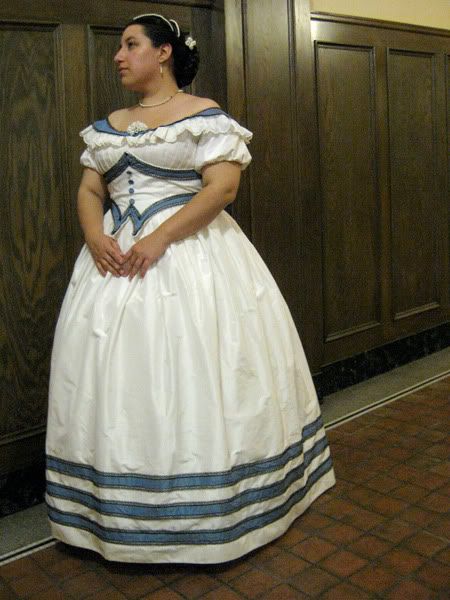 I was able to re-purpose the old ballgown skirt, but I wasn't at all happy with the way the old bodice fit me. Rather than try to modify it, I started over with a my day dress bodice pattern as a base. I wanted the neckline to sit lower on my shoulders, and to eliminate the gapping I had with the first attempt. This was accomplished (after a few false starts and discarded muslins) by actually changing the angle of the center front--I took out about an inch on the center front fold, angling the pattern piece so that there was more fabric under the bust, but less in the neckline. The rationale there is that the body would be darted to fit anyway, so having a little more fabric in the darts was no big deal. The neckline, however, had to fit smoothly without the benefit of darting or gathering to pull it in over the bust. So my piece ended up being more trapezoidal than rectangular, which I'm happy to say seems to have completely solved all gapping issues. In fact, I'm completely thrilled with how well the neckline of this dress fits--it's exactly what I hoped for, and it was very easy to wear.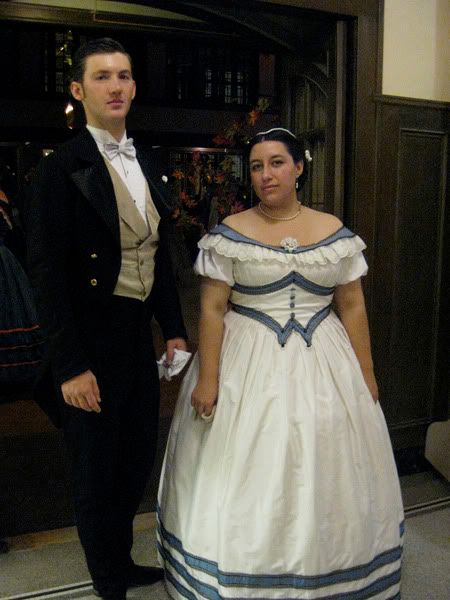 A somewhat clearer view of the neckline shape, as well as the full front of the bodice.
As much as the fitting was a triumph, I couldn't have finished the bodice without help. My mother darted it to fit, and Gwendolyn spent an evening at my apartment, draping the pleats over the bust for me while I stood around letting her pin silk on me.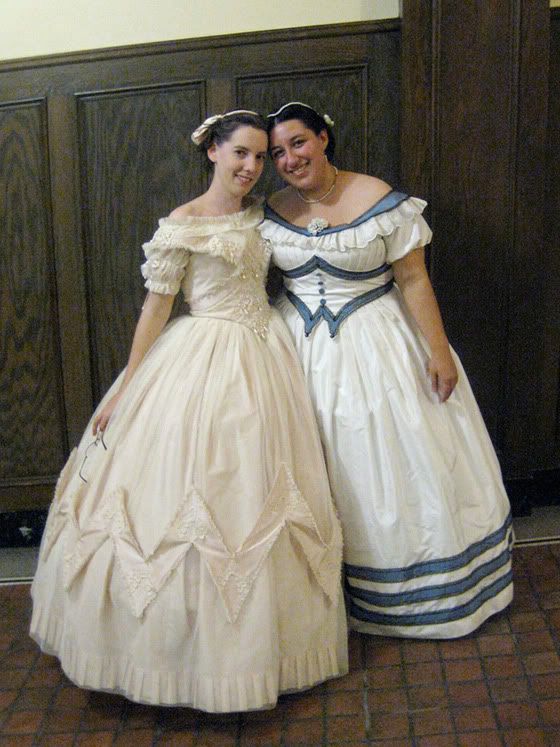 Gwendolyn, on the left, draped the bodice pleats.
The bodice is built on a base of white cotton sateen, with a pleated overlay of silk organza and a faux waist of silk taffeta sewn directly to the lining. The bodice was completed in its entirety in plain white, and then the trim applied afterwards by hand. The waist is trimmed with half-inch bias strips of the blue taffeta, and edged by more of the same black lace used on the skirt. The buttons were spare plain pewter buttons from Jas. Townsend with simple circles of blue silk gathered over them.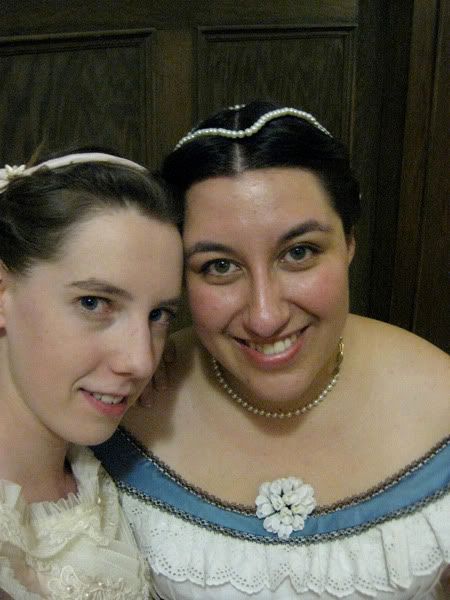 If I believed in MySpace, this would be on there. Instead, let's call it a closeup of the bertha collar, shall we?
Although there are (obviously) a lot of things I like about this dress, I think the bertha collar might be my favorite. Why? Simply this--the frill of white lace you see is a length of actual antique hand-embroidered whitework that I was incredibly lucky to find. I trawled e-Bay and haunted local antique stores for weeks, looking for a piece of antique lace in the appropriate condition, length, and style for the bertha. I had finally resigned myself to using a modern Swiss embroidery when literally the next day I stumbled across Em's Heart. Imagine my delight when I found a listing for some beautiful whitework--it came in three pieces, but that didn't matter. It was perfect.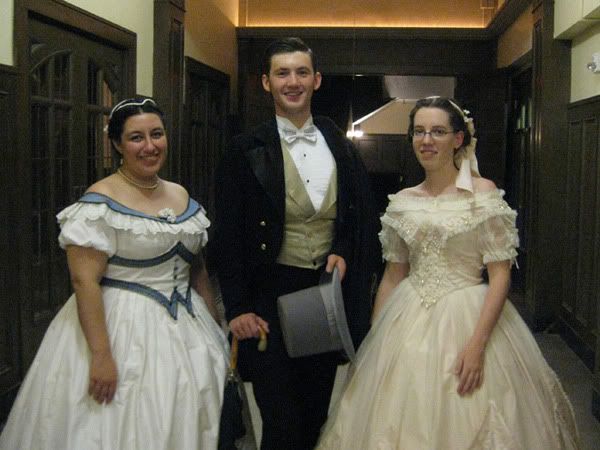 Me, Mike, Gwendolyn
I originally thought I would just use a 1" strip of bias for the band on the bertha, but Gwendolyn suggested that I use a contoured piece instead, narrowing the center and widening at the shoulders to help emphasize the desired shape--broader in the shoulders and narrow in the waist--of the time period. I basically just traced my pattern's neckline and guessed. The blue silk is mounted on a base of stiff netting, called crinoline, to help it keep its shape, and the black lace is stitched just under each edge. Finally, the three pieces of antique lace were carefully whipstitched together (which kept the seams from being bulky), pleated, and whipstitched to the underside of the bertha. The whole thing is then just basted to the bodice at the neckline.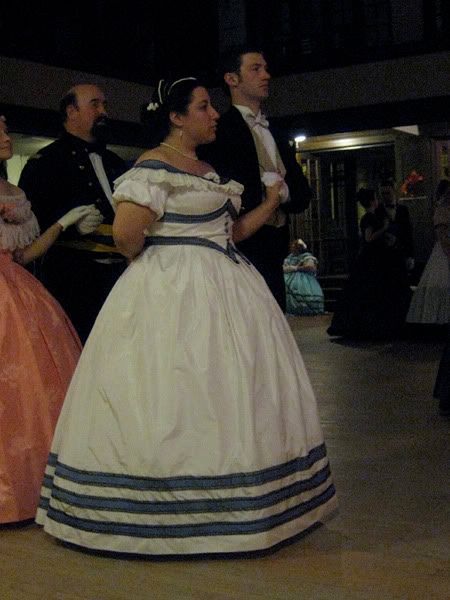 A few finishing touches, and we're ready to promenade.
The final product just needed a couple accessories to finish it off. The plate shows a pearl headdress with clusters of daisies in the hair and on the bertha. I liked the idea, but eventually decided that there was no way anyone was going to take me seriously with a clump of flowers attacking the top of my head, and that a well-proportioned corsage might be better on a busty lady than an explosion of Gerberas. Instead, I used some parchment crocuses that I bought at Old Fort Erie over the summer.
I have no idea how one should make a corsage to affix at one's bust, but here's what I did: arrange flowers in attractive semi-spherical bouquet, ensuring they will lie nicely against the chest without poking or itching. Wrap one or two stems around the rest of the bunch. Trim stems to about an inch and a half. Wrap stem bundle in a scrap of white bias silk. Realize you've no clue how to finish off the end, so just wrap your thread around it several times to secure it and chop everything off about an eighth of an inch below the thread. Muss the ends around a little to get rid of any small frayed threads. Inspect, shrug, and move on.
The headdress is just a form of millinery wire, covered with black velvet ribbon and beaded with glass pearls. I wound up wearing my stand-by pearl necklace and earring set for jewelry, even though the plate shows no earrings and a necklace that looks more like gold chain than anything...but the pearls in the hair went nicely with the set, so I'm not complaining. A couple small clusters of crocuses pinned around my hairpiece, and voila! A completed second attempt at an 1860s ballgown, with which I am entirely happy. I can't wait to wear it again!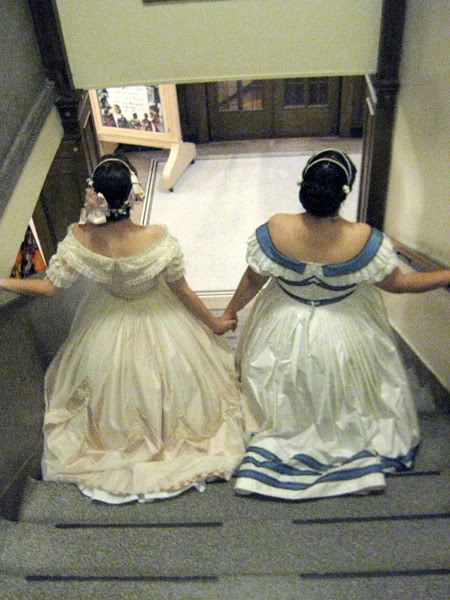 The end!